Introduction

The Variety Patch 4.8.0 is here, with many changes being introduced to the game. Many buffs and nerfs were made, and focused on two different formats: Standard and Eternal. As usual, for that reason, I bring you here my full analysis on the changes made in this patch.
If you're interested in my analysis of the new cards in Patch 4.8.0, just click here
.
Keep in mind that this analysis is based only on my 3-year experience playing and casting LoR tourneys. In case you agree or disagree with me, leave your opinion in the comment section below as well. Let's head on to the analysis!
Patch 4.8.0.

These Patch Notes were incredibly extensive, as we had changes for cards in both formats. To make it easier for us to visualize the cards, the changes were separated into parts, and we'll go by that separation here as well.
Standard Format Nerfs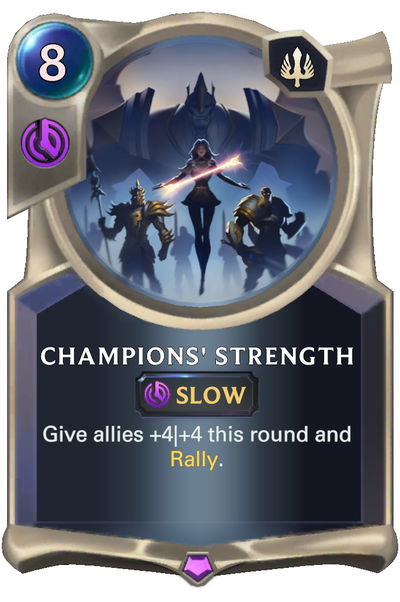 Champions' Strength - New Text: 8 cost. Give allies +4/+4 this round and Rally.
This card was too strong, and it was certainly a card which carried on its back certain strategies which shouldn't exist, such as the Lucian Illaoi list, which came up out of nowhere just days before the Siren Song Open. Some Tristana archetypes also abused this card in a way which was a bit toxic for the game.
Now, this card forces you to bring Scout units in case you want to attack multiple times during a turn, abusing the additional stats. I still think this spell can be a strong finisher for Demacia lists, but it will certainly be a lot weaker and can even disappear a bit from the competitive radar in the next few days.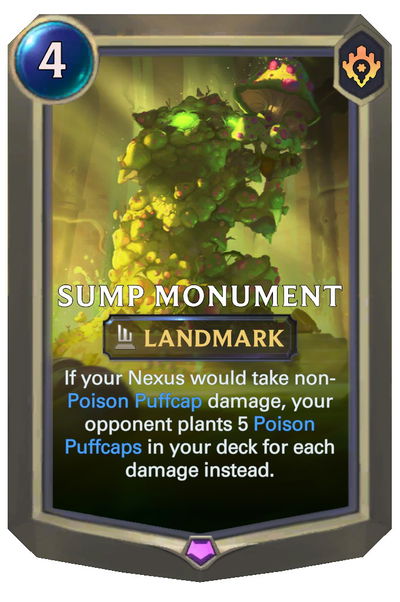 Sump Monument - New Text: 4 cost. Plant 5 shrooms.
This card doesn't match Piltover & Zaun's region identity.
I don't think this nerf is enough for this card, even more so as now you'll plant additional shrooms. It will still be used in competitive lists, and will still cause a lot of headache for ranked queue players.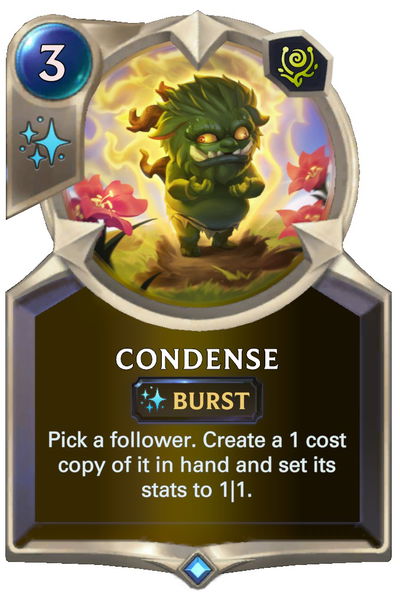 Condense - New text: 3 cost.
Condense is a very strong card, and I believe this nerf doesn't apply only to the interaction between this card and Riptide Rex, but to Jhin Bandle City's full archetype as a whole.
Now, with an increased cost, this card will be used only in slower Control decks which use this region.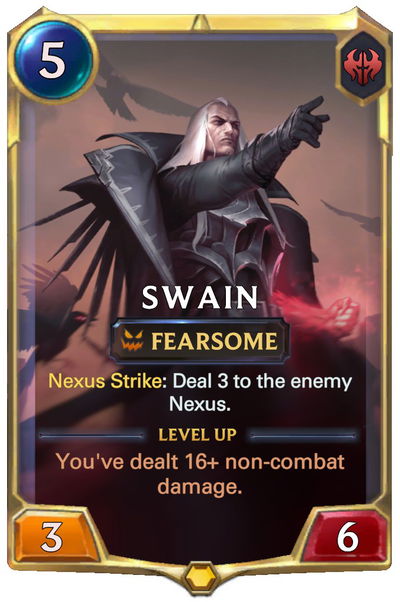 Swain - New text: You dealt 16+ non-combat damage.
This nerf, as incredible as it sounds, doesn't affect this champion's efficiency much. Now that the competitive focus is on Eternal, with the cards in that format, Swain levels up in the blink of an eye.
Actually, he already leveled up even with the cards in the Standard format. I think this is a welcome nerf which makes Swain a bit weaker in all formats.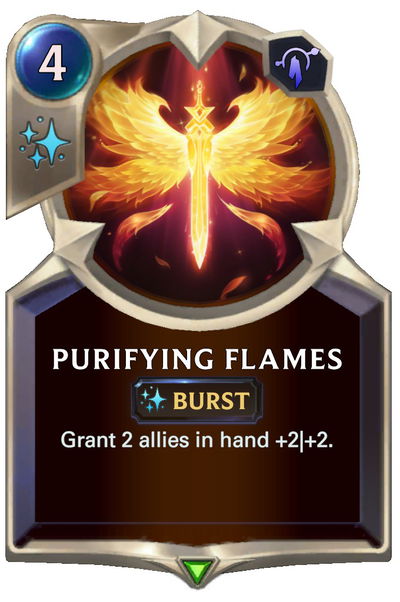 Purifying Flames - New text: Grant 2 allies in hand +2/+2.
This nerf is quite heavy, and deserved. Now, it is no longer possible buffing a unit on board, only units in hand. That really delays strategies in Elusive lists, which are a problem in both formats.
These decks have always performed reasonably well in big tournaments and in the ranked queue. The problem is that they don't interact with their opponent, going out of what Riot plans for Runeterra in 2023. This way, I think it is very fair to have this nerf on Purifying Flames.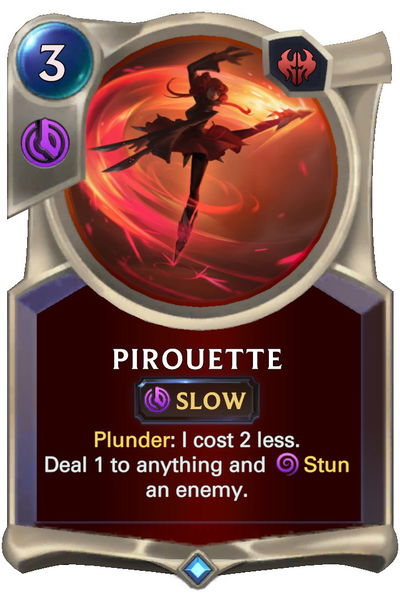 Pirouette - New text: 3 cost. I cost 2 less.
This is another very fair nerf. The focus was making Pirouette more focused on being a piece to use in a combo after activating the Plunder effect, and not as a Plunder activator itself.
Out of all changes, I think this was the most precise one, as it is still possible to cast this spell for 1 cost, but you can't deal damage to the enemy Nexus as easily with it.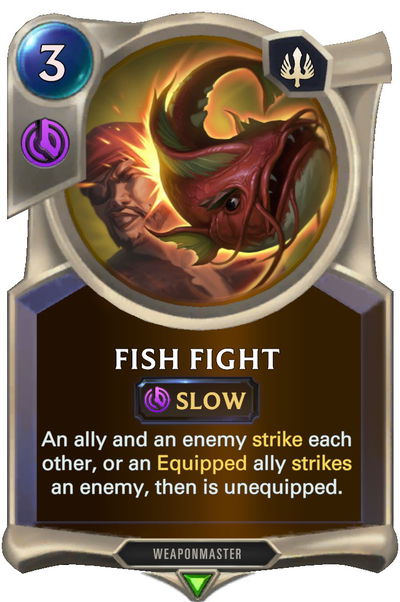 Fish Fight - New text: 3 cost.
This change is quite fair too, as weapons are a very popular tool in Standard, and most competitive lists bring this type of interaction, and this card as well. A one-sided strike is an effect which is a bit too strong, considering that the card which strikes will be carrying additional stats with their equipment.
I think this spell will still be used, however, interactions with it during the matches will be much more punctual.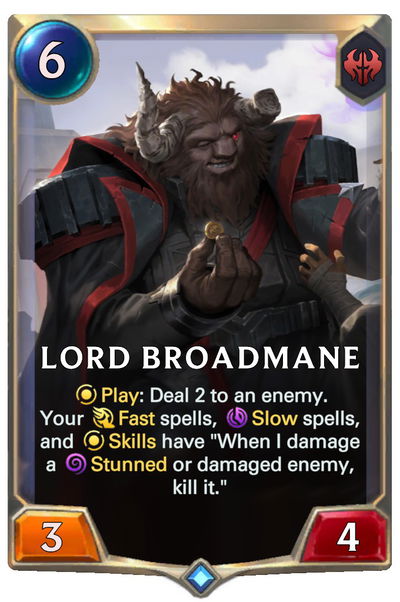 Lord Broadmane - New text: 3/4.
This nerf doesn't change much, because this card remains strong. 4 health points is still enough to escape many removals in the game. The greatest strength here is found in his effect, and, if Lord Broadmane is strong as a 1/1, when it is played from a Condense, you can bet it is still strong with 4 health points.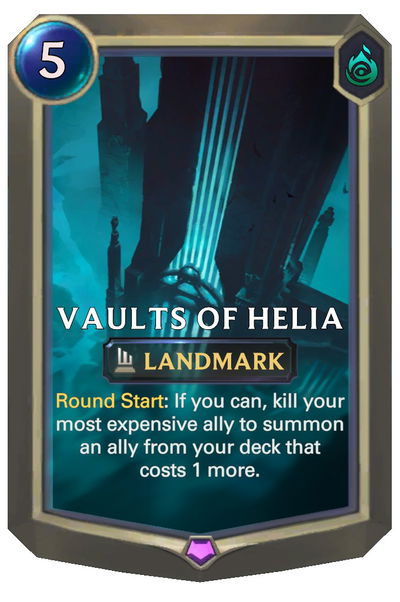 Vaults of Helia - New text: 5 cost.
This nerf really weighs down on Nasus lists. This card was a 5 cost card originally, and it only started being used after the buff to 4 mana. As a result, I think this nerf is enough to retire Nasus lists for now.
It costing 5 really breaks down the game rhythm which vaults deck have, and, as the deck building is quite relevant when it comes to card cost, increasing the cost of Vaults of Helia itself ends this deck.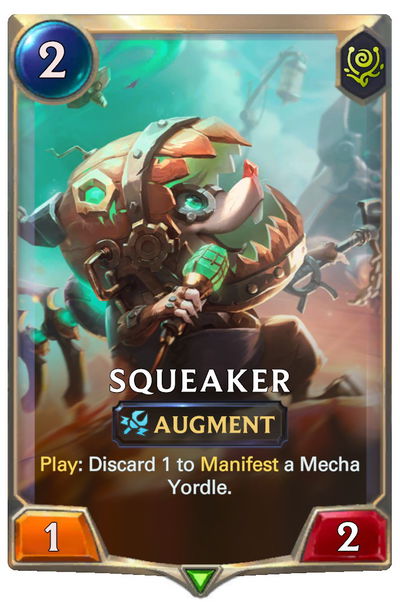 Squeaker - New text: 1/2.
This change is quite welcome, considering that aggressive lists have been abusing Squeaker as a cheap unit which creates value. It being able to grow its attack during its stay on board sometimes may seem a bit too abusive. And that's why lowering its attack makes sense.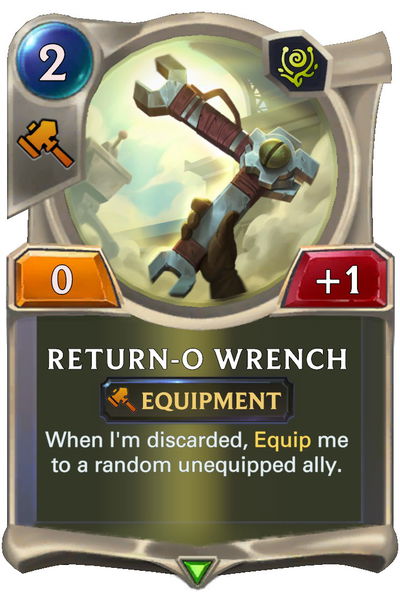 Return-o Wrench - New text: +0/+1. Impact removed.
I don't know if this change is a nerf, to be honest. The decks which used this list are aggressive discard lists, and giving defensive stats to Aggro units is historically unbalanced.
We'll see in the next few days how this card will perform competitively, but I think it might be even better than before. (Riot didn't even comment on this change, so it might be that not even they understood it.)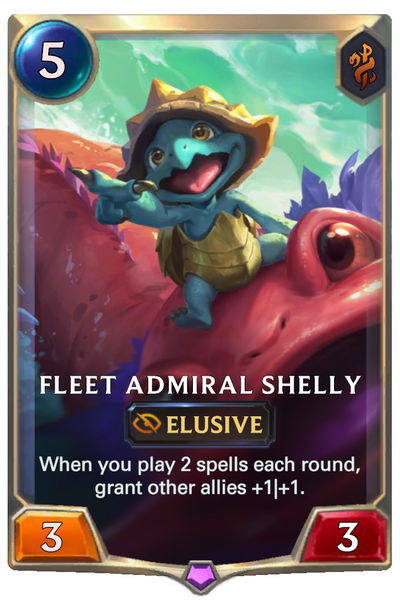 Fleet Admiral Shelly - New text: Removed Attune.
One more nerf to Fizz Samira lists. This is ranking up to be one of the most nerfed decks in history.
This change came because we had a change to Nami, and these two cards interact really well with one another. Considering that Nami will likely start seeing play again, it is a nerf that makes sense.
Standard Format Buffs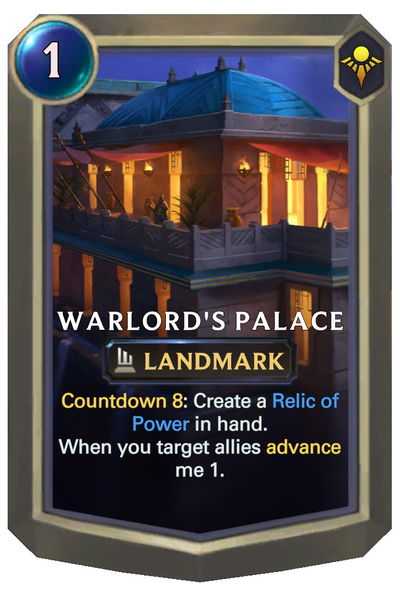 Warlord's Palace and Warlord's Hoard - New text: countdown 8.
This change really makes it easier for Akshan to return to the meta, considering that this champion is a bit weak and unpopular. In Eternal, he might obviously be explored better, but, in Standard, he suffers with finding his space in the meta, and this change can help this champion find that spot in the current meta game.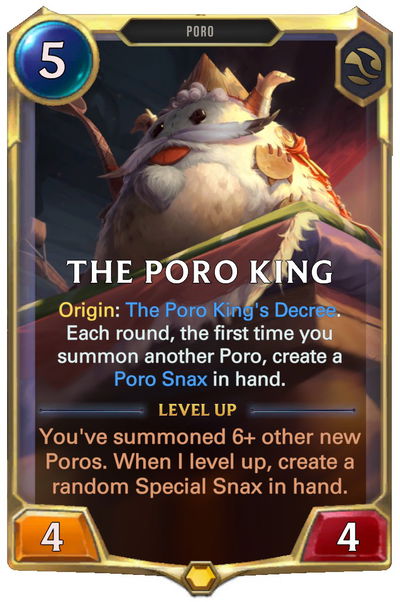 The Poro King - New Text: When I level up, create a Special Snax in hand.
This change brings to this champion a much welcomed quality of life. But it will hardly change the Poros' win rate. I believe Poros' problem is the weird game rhythm this deck needs to have to keep summoning many low-cost units, and needing specific spells to increase their stats, without having that much card draw.
The problem has never been The Poro King, but, even then, it is still a buff which enhances the deck - but not enough to make it meta.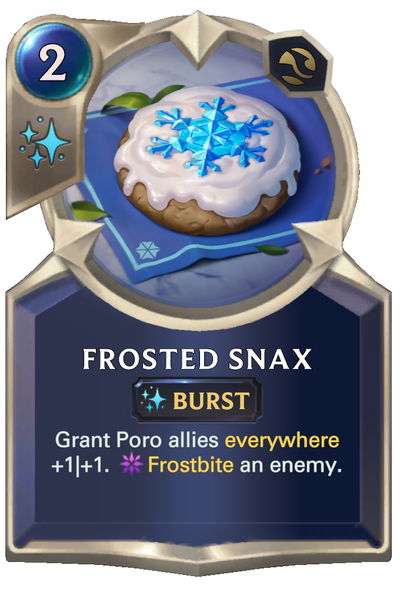 Frosted Snax - New text: Frostbite an enemy.
By far, this was the worst Snax of all, as it didn't make much sense to place a power limit on this Frostbite. This change enables the Poro list to interact with meta decks a bit better, and it now has a defensive alternative against big units.
This change is more impactful than The Poro King's.
Blimp-Pack Poacher - New text: 2/3.
This change removes this card from the range of Mystic Shot and High Note, but, other than that, in most matchups this card faces, which don't bring these two cards, this makes no difference.
Bristlehog - New text: The first time an ally transforms, grant me +2|+1.
This change makes sense, once the Runeterra standard for cards with this type of effect is 3/3. We can compare this card directly with Chip, which has always been 3/3. Bristlehog as a 2/3, before, didn't match the power level of the game's broad stat lines.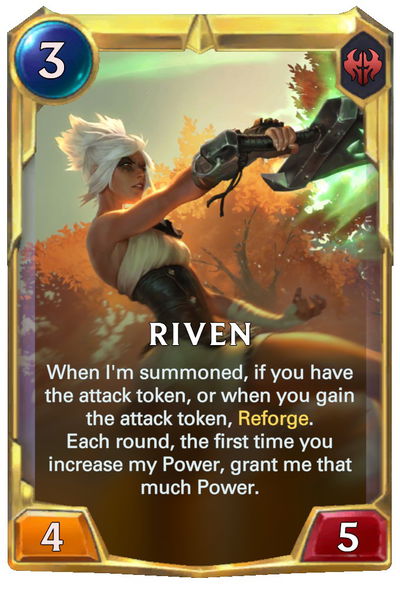 Riven - New text: Each round, the first time you increase my Power, grant me that much Power.
This is a very confusing change, but, basically, now temporary effects with power buffs, are only half temporary. That means that, if you play an Elixir of Wrath, you'll get +3 temporary attack from Elixir's effect and +3 permanent attack from Riven's own effect.
This change also works for weapons: if you equip Riven at the beginning of the round, she gets the equipment buff for as long as she is equipped, and also gets the same attack permanently.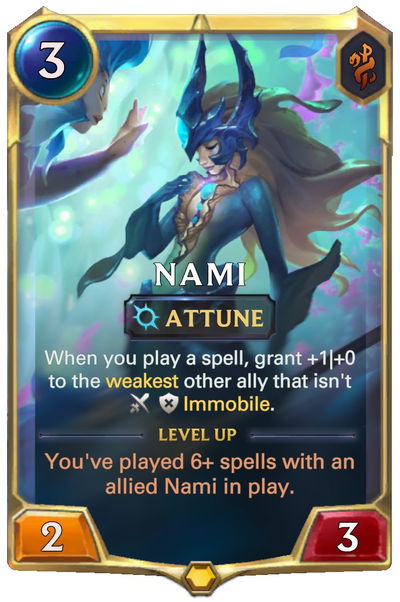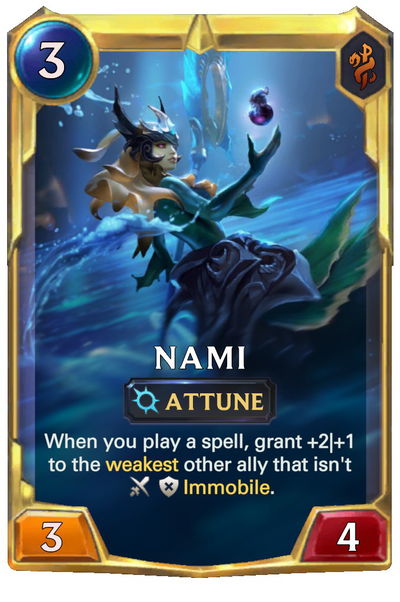 Nami - New text: Level Up: You've played 6+ spells with an allied Nami in play.
Nami Final Level - New text: When you play a spell, grant +2|+1 to the weakest other ally that isn't Immobile.
This change is the heaviest for the Standard format patch. Nami was suffering a lot to find a deck after the heavy nerfs she took. Another factor which really prevented her from seeing play is that her followers also ended up getting nerfed, as they were very relevant in other archetypes. And that ended up nerfing this champion indirectly.
This rework allows Nami to not get stuck in that play style of banking mana every round to level her up. Now, Nami decks will possibly be focused on protecting this champion as soon as she enters the board, instead of forcing you to manage your mana to combo with her only at her level 2.
Now, you're forced to play Nami on board to level her up, and that will certainly change her game style a lot, and create an entirely new archetype.
Only time will tell what will be possible to play with Nami now, but I believe she will have a very prosperous future, once it is relatively easy to play 6+ spells with a specific unit on board, such as Samira.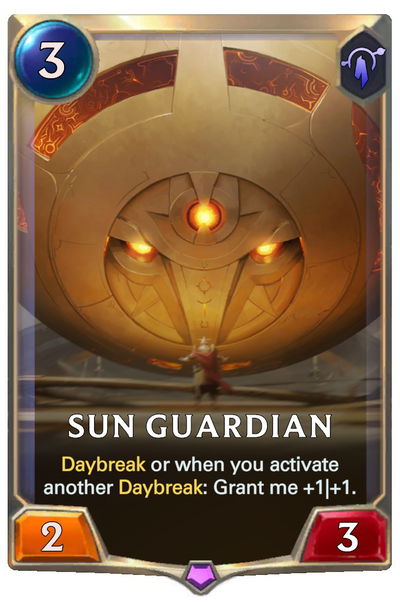 Sun Guardian - New text: 2/3.
This card got hit with a very heavy nerf, and it can now form part of the Daybreak package again. I think this new setting of stats is quite healthy for this unit, and it can, yes, appear in Leona lists in the future.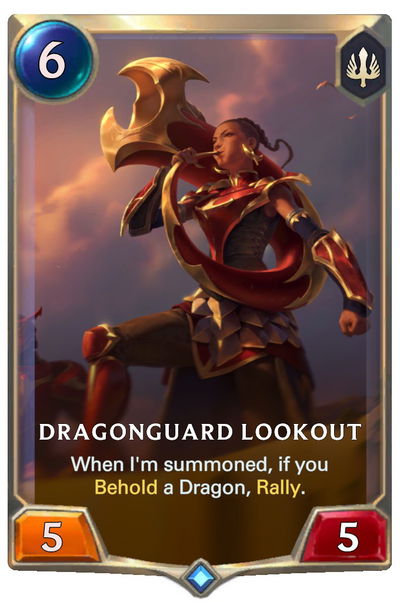 Dragonguard Lookout - New text: 5/5.
This card has just gotten a drastic change to its stats, but I still don't know if it is enough to bring back into play dragon lists.
The problem with this card is that Beholding a dragon is an effect which makes the dragon lists inconsistent, because you need to consider, in your deckbuilding, dragons, the units that need to Behold dragons, and spells that protect dragons. That's a lot.
That is why this card might not, alone, enable this archetype, but I think she can show up as a one copy card in Shyvana lists if this champion starts seeing play again.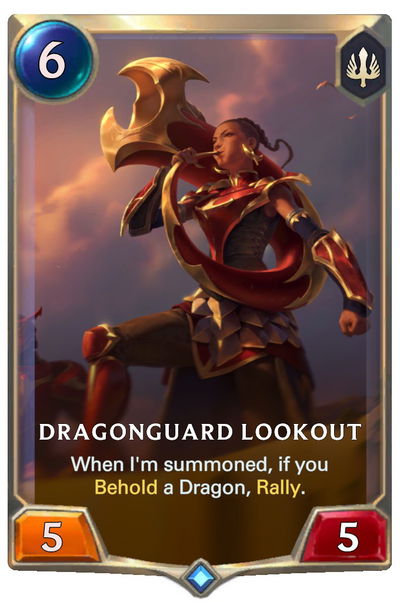 Thread the Needle - New text: 2 cost.
I think Riot undermined this card in their description for this change. They used the term "small change", but I think this change is quite relevant. This card is an Atrocity which can only be used on units, and that is quite relevant in dynamic lists, which might not even bring Gwen.
That is why I think this card was just promoted from useless to viable with this change, as you can now consider a copy of it in Shadow Isles Midrange archetypes. The problem is finding these decks in the Standard format.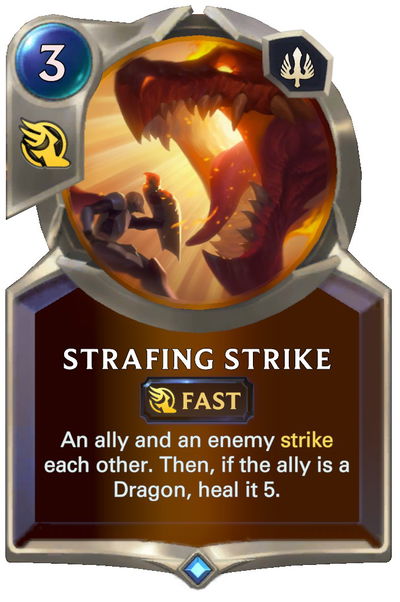 Strafing Strike - New text: Heal 5.
This is another seemingly drastic change for dragons. Five health points is a lot, but, from personal experience, I don't think it makes that much of a difference for a card to heal 2 or 5.
Many times, dragons end up battling units which have 3 or 2 attack, and, as a result, they're always 1 or 2 health less than their maximum card. So, this is a very optimistic change in my opinion, in the sense that you expect your unit to need that much healing.
At the end of the day, this is obviously a welcome change, but I don't believe it will make anything different in practice.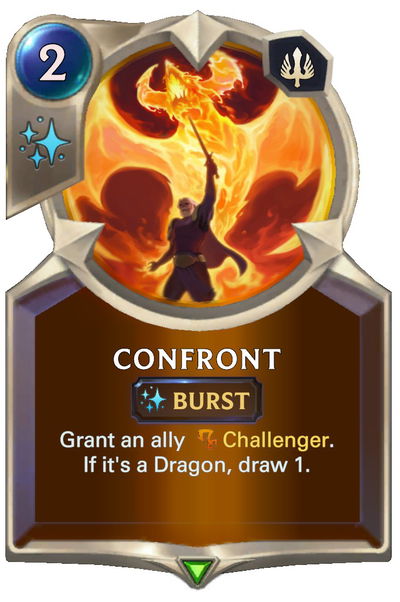 Confront - Grant an ally Challenger. If it's a dragon, draw 1.
This is the most meaningful change, and certainly the most impactful in the game. Drawing cards has always been a weakness in the dragon archetype, and this card, alone, can strengthen the archetype enough to bring it back from the ashes.
This effect is very cheap, and on top of it all, it is Shyvana's champion spell, so it will be a relatively common card in these lists. This change will place dragons back on players' radars.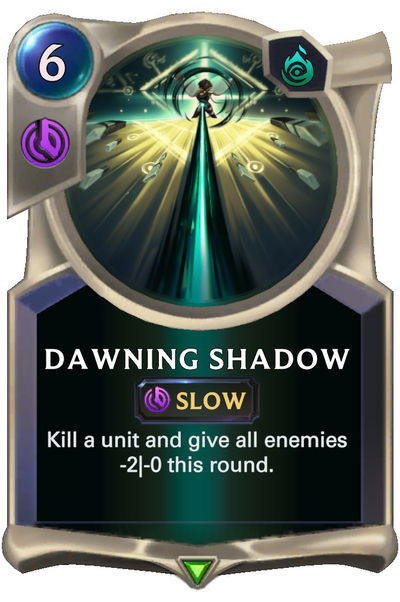 Dawning Shadow - New text: 6 cost.
This change fixes some of the Shadow Isles issues: its removal spells are very expensive. Now, with a more accessible cost, this card can be considered in lists which don't perform well against extensive boards, instead of Vengeance.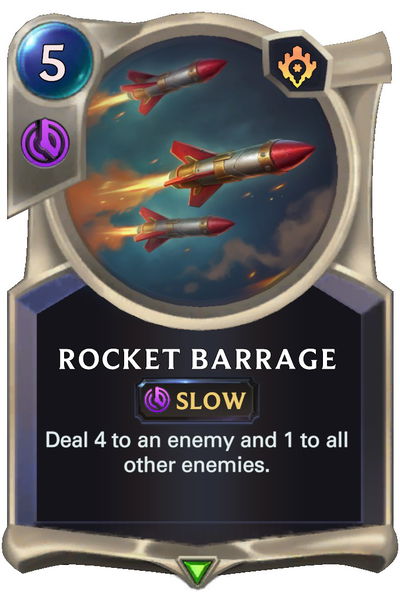 Rocket Barrage - New text: Deal 4 to an enemy and 1 to others.
This change is very strong, as the range of 4 health points belongs to units which mostly cost from 4 to 6 mana, and a 5 cost card fits perfectly in between. Now, yes, this spell makes sense and can be played at a high level in Control lists.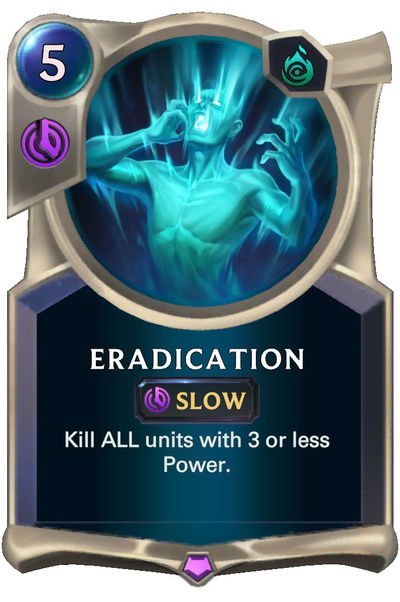 Eradication - New text: 5 cost.
This change is focused on giving Shadow Isles more quality of life regarding the region's slow removal spells.
Eradication is great, but it has never been the first option for Shadow Isles players who used board clear spells in their decks. Now, it might show up as a one copy in lists, as a mass removal option against aggressive archetypes.
Adjustments to Standard Format Cards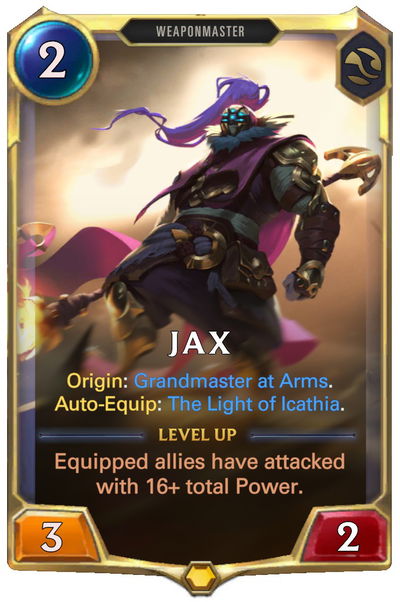 Jax - New text: Level up: You've attacked with 16+ power of equipped allies.
Now, you no longer need to strike with your equipped units to level up Jax. You just need to declare an attack with them. Riot considers this an adjustment, but I consider this a very relevant buff which really changes the way to play this champion.
Now, you can no longer answer this champion's level up if the Jax player prepares an open attack. Previously, as you had to strike with equipped units to level up Jax, it was possible to stop his level up during an open attack using removal and stun spells, but now this is no longer possible.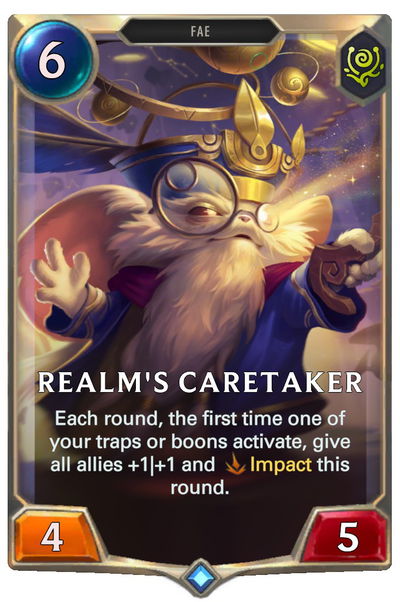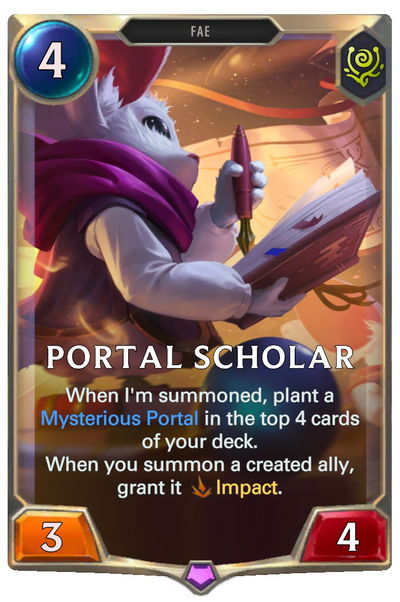 Realm's Caretaker and Portal Scholar - New text: Fae.
Now these cards are faes, and not yordles. This change makes absolutely no difference.
Buffs to the Eternal Format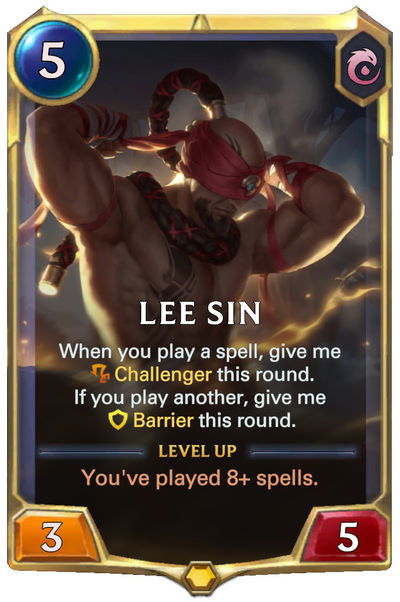 Lee Sin - New text: Level up: 8+ spells.
This is a very welcomed change for this champion, once his game style isn't as extremely polarized as before. Currently, other regions and more modern decks are better equipped to deal with him. And that is why it makes sense to make him a bit stronger.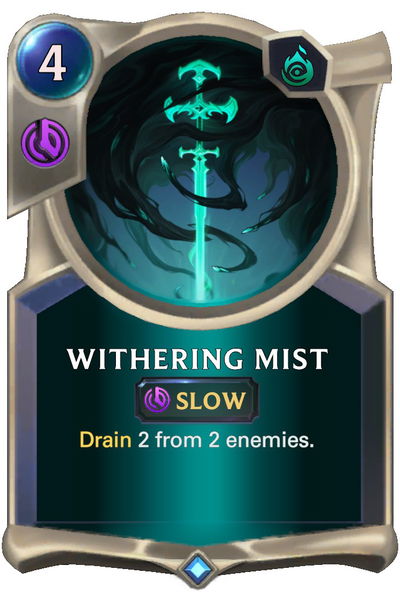 Withering Mist - New Text: 4 cost.
This is another change to slow removal spells in Shadow Isles. Really, these changes are a standard for this region in this patch, and will certainly make this region much better equipped for the possibly extremely aggressive meta in Eternal format.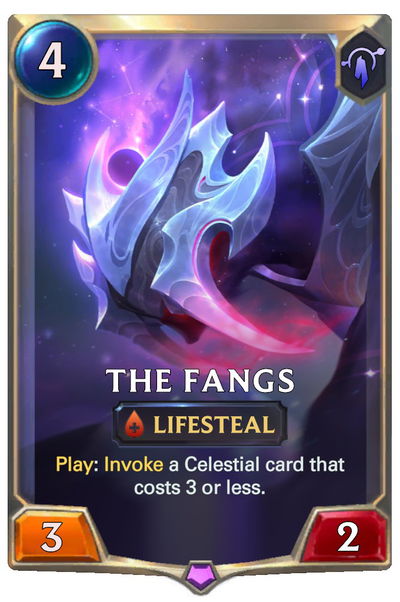 The Fangs - New text: 3/2.
This has been one of the community's favorite cards for quite some time, and, ever since it was nerfed a few years ago, and rotated, many people have been sad.
Now this unit can return to Targon decks as a very strong unit which controls the intermediate turns in the match, creating resources for you which are always quite flexible and useful during the game.
Very Little Impact Changes
There was a series of changes to stats on many cards, and it's not really worth it to comment on each one of them and waste your and my time. Consequently, I separated only those which I think are more relevant, and which indeed change something in the game.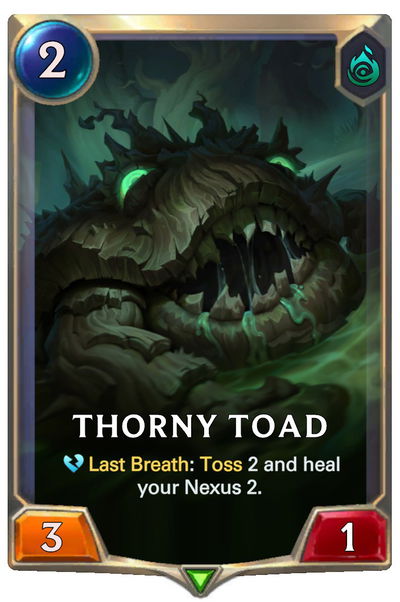 Thorny Toad - New text: 3/1.
This card has always had a problem: it is a follower that needs to die, but it has 4 points of health. Now with only 1 point of health and three of attack, this unit completely changes its play style, and is now a much more incisive blocker and attacker, which really helps you go Deep.
So, yes, now Thorny Toad can return to Nautilus' archetype.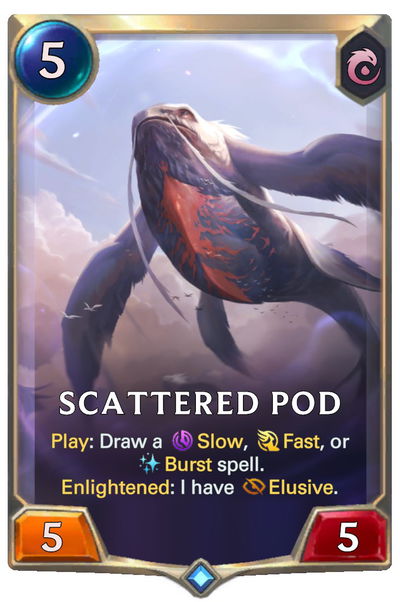 Scattered Pod - New text: 5 cost, 5/5, No Attune.
Scattered Pod was already a part of Karma Shadow Isles lists in the Eternal format, and being 1 cost cheaper is very relevant for those decks. Attune doesn't make that much of a difference at the end of the day.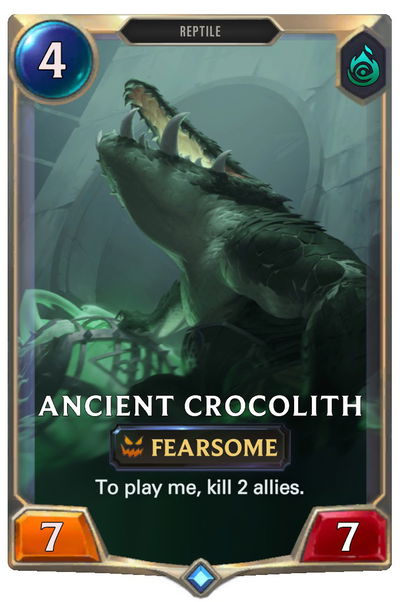 Ancient Crocolith - New text: Fearsome.
This change, by Joeysticks' words, "is a joke". This unit is extremely strong when summoned through Concurrent Timelines, and all of us in the competitive scene know that this card shows up frequently in that way.
I think this is a very unnecessary buff, and it makes Ancient Crocolith's interaction with Timelines decks even more toxic.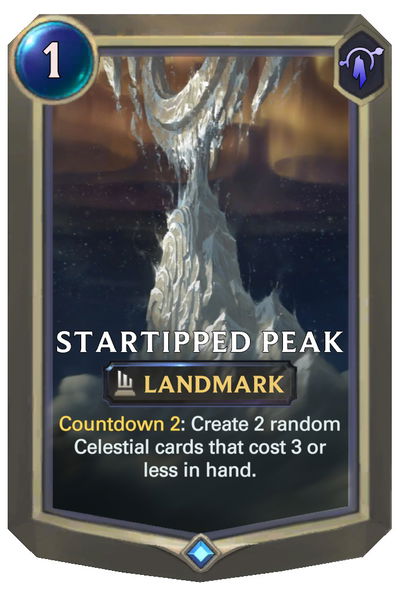 Startipped Peak - New text: 1 cost.
This card can now curve on turn 1, and that makes a lot of difference, as landmarks can't attack or defend, so they usually need a lower cost. Startipped Peak, as incredible as it sounds, was too heavy for the effect it has.
Now this card can be a strong addition to slow Targon lists which abuse Celestial units.
Wyrding Stones - New text: 0/4.
The whole range of ramp cards is in Eternal, and this card is the main card in that archetype. Increasing this card's health doesn't make it invulnerable to Quietus, but it will certainly lower the number of removal cards which can answer it.
The stones are always a constant threat as they really speed up the game's rhythm, and that is why they must always be the target of removals. Defensive stats for this card allow it to survive a wider range of attacks and direct damage.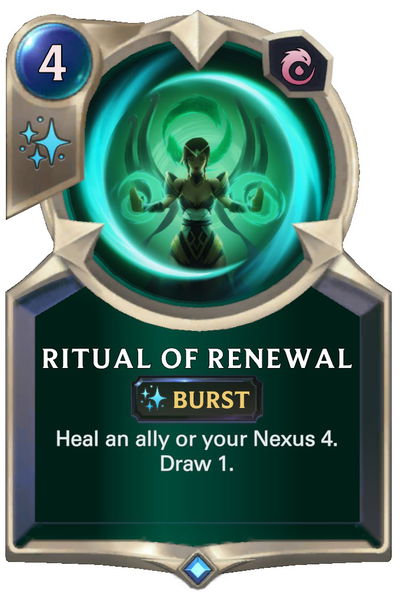 Ritual of Renewal - New text: Burst.
Speed changes are always very impactful in the game, and Ritual of Renewal will certainly be playable. Healing 4 points of health for 4 mana is quite fair, and as a burst spell, drawing a card, is an extremely strong card, possibly strong enough to be considered a 3-of in Karma decks and other Ionia Control lists in Eternal. Another factor that makes this card even stronger is that it is present in Ionian Tellstones.
Ionia is a very strong region in Eternal, and Ritual of Renewal might really change the state of the game, once this card can now be one of the best anti-Aggro tools in the game.
Adjustments to the Eternal Format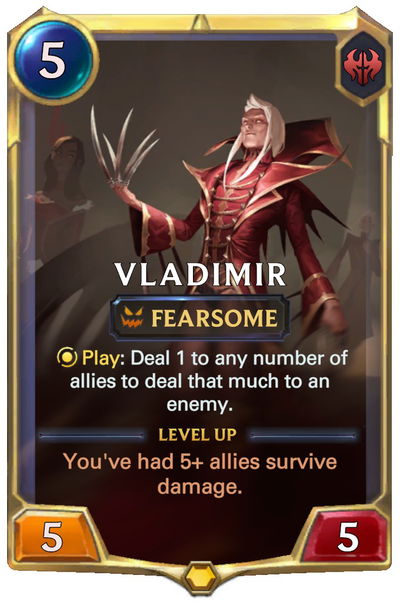 Vladimir - New text: Play: Deal 1 to any number of allies to deal that much to an enemy.
Vladimir, for a while, has been an extremely bad champion. With this rework, he transforms into a Control tool for Midrange lists, which really matches Noxus' Control identity, mixed with Freljord's Midrange identity.
Many changes in this patch, including the new card, Crimson Banquet Hall, allow this champion to finally be played, maybe even at a high level. Vladimir's archetype issues have always been the slow rhythm of the deck, added to the bad interactions this champion has with his own cards.
This champion is only strong at his level 2, and now, this champion alone can level up without you having to build a deck around him. Which means, Vladimir's interactions with his followers are now much more complete and direct, and now he can also be used as a removal, something that previously didn't exist in the archetype.
I believe Vladimir decks won't necessarily need to bring the Crimson followers, as you can combo this champion really easily with Swain, in a Noxus Control list with fast Midrange elements. But nothing is preventing you from testing him with Braum on the first day, like everyone else.
Final Words

If you've read this far, now you got the full analysis on patch 4.8.0.
Don't forget to share and comment on this article on social media. See you next time!