Legends of Runeterra is an exciting card game. It is a descendant of Hearthstone that introduced card games into modern gaming.
In Legends of Runeterra, unlike in Hearthstone, there are no card packs and players can unlock all the cards separately.
Thanks to this, players no longer have to rely on their luck to unlock specific cards. The Wildcard system, implemented in the game, decreases the luck factor to a minimum, making the collection build-up more fun than ever.
The obvious way to build your card collection is to play the game. Nevertheless, there are also other ways to get cards in LoR and build a strong deck.
Get cards in Legends of Runeterra by playing
Crafting cards
In Legends of Runeterra players get what they get, but they can also make what they cannot get. For this purpose, they can use shards and wildcards.
Like standard cards, wildcards also have rarities. Gamers can craft any card of the same rarity from a wildcard of the same rarity. As a result, they can construct:
any Common card from a Common wildcard,
any Epic card from an Epic wildcard,

any Champion from a Champion wildcard.
When wildcards are done, you can use shards to fill the created gap. Remember, though, that rarer cards need more shards to make.
Exploit fully your time with LoR
In the majority of games, free-to-play comes with long hours of grinding. Luckily, in Legends of Runeterra, things look different. As a result, you are able to get the game's most important daily rewards and bonuses by dedicating only an hour or two of your time.
The majority of daily quests can be completed only during this time and gamers are also eligible to earn a bonus XP for their first free PvP wins (400 XP for the first, 200 for the second, and 100 for the third).
For your first 11 wins, you can also get 200 XP. After this point, the XP rewards will start diminishing to zero after 31 wins.
It is also worth mentioning that there are XP rewards even for losses that can compensate for your time. The base PvP loss XP reward is 100 XP, after five losses, it decreases to 50 to get zero after 10.
To fully exploit your time in the game, you can start by collecting daily win bonuses and completing daily challenges. Once you are done, you are able to queue into 10 standard matches and surrender in the beginning to get your daily XP boost.
Make use of the reroll rokes
In spite of the fact that Legends of Runeterra has a system that ensures that all gamers earn the same average XP from daily challenges, you can always count on your luck and secure a 1500 XP challenge.
Therefore, if you complete a mission and receive 1000 XP, you can try to reroll (two times per day) to maximize your time and get 1500 XP.
Get cards in LoR by shopping online
An alternative way to get cards in Legends of Runeterra is to earn them by shopping online using the MillionPugs
cashback service.
The startup is still expanding, but already collaborates with the most popular games. For each of them, it offers customized valuable game content, like Epic and Champion wildcards packs for LoR
, which you can later craft into cards.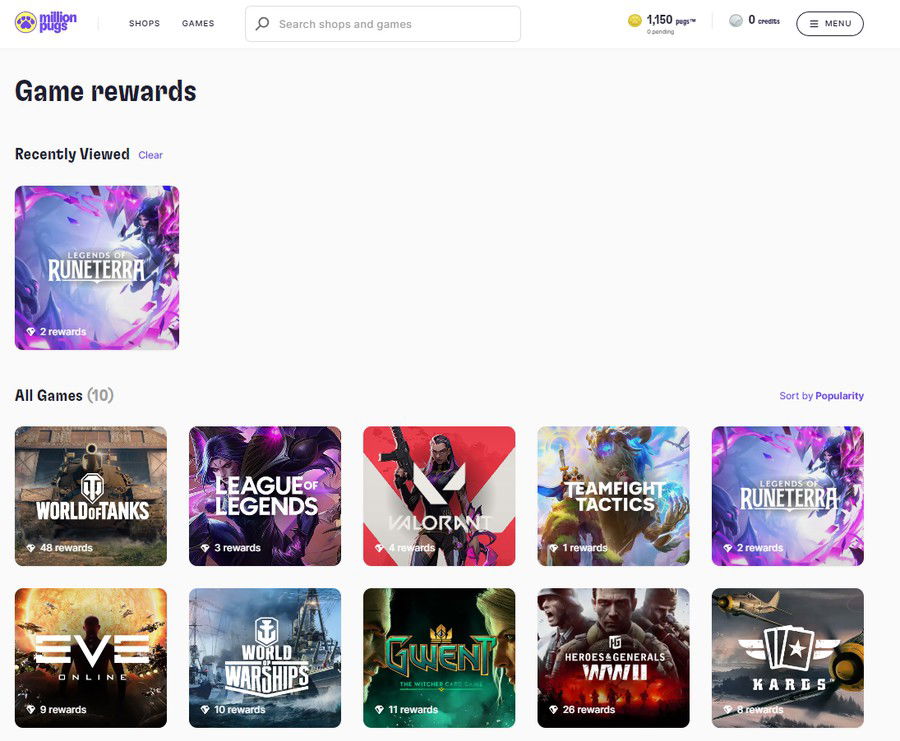 How to get cards in Legends of Runeterra using MillionPugs?
The service is based on the idea that you:
shop online in affiliated stores,
collect reward points, known as pugs™, and credits,
exchange collected points and credits for game content of your choice,
get a code and activate it in the game.
And that's it.
The cashback service is easy to use and free-of-charge. You don't have to pay for creating an account or installing the browser extension.
It is worth mentioning that the plugin is optional, but it will facilitate using the service. It will automatically show a small pop-up every time you land on any of the partners' stores.
Currently, MillionPugs cooperates with over 2000 brands where you can earn points. Each of them has prepared a deal for MillionPugs users that, once activated, will give a boost of points to your MillionPugs pocket.
Once you dispose of a sufficient number of rewards points, you can exchange them easily for Wildcard packs for Legends of Runeterra with one click.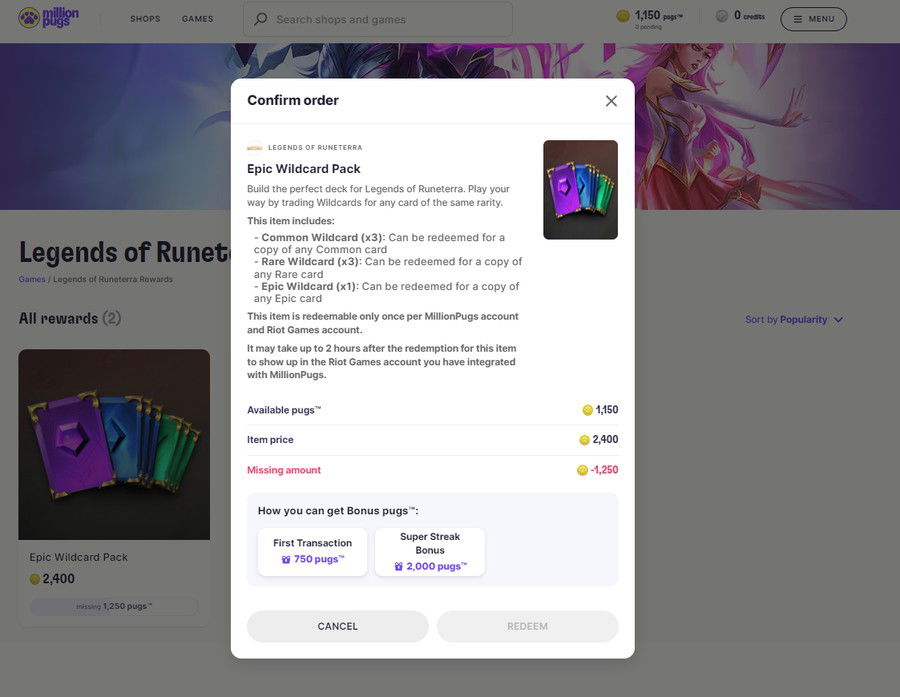 As a result, MillionPugs is an additional outside-game option you can use to earn cards for Legends of Runeterra and strengthen your collection.
Pay with real money
Last but not least, you can also pay with real money to purchase Premium currency, get Wildcards, and craft with them Common, Epic, Rare or Champion cards.
It is also worth mentioning that you can use Premium currency to buy pre-built decks.
Consequently, you can get cards, or even whole card decks for Legends of Runeterra with real money. It is a costly option, but always available if you have limited time and want to strengthen your card collection quickly.
Summing up, you can get cards in Legends of Runeterra using various in-game methods like crafting, increasing your XP to get rewards and making use of reroll tokens. Nevertheless, you can also use the MillionPugs cashback service, or pay for cards with real money.