We've reached the week before the Eternal Runeterra Open. The Variety Patch is here, and now, with Eternal being the competitive focus, we're all preparing ourselves for this big tournament that will happen on November 18th.
As the Eternal format is crazy, it is normal for players to get lost when it's time to build their lineups, and because of that, as always, I come bring you a guide on the 5 lineups I most suggest you bring to the tournament.
This Runeterra Open will be played on the Eternal format - that means it will be wild, and it is extremely hard to say for certain, with clarity, what will really be good or not. That happens because most archetypes lose to another meta deck. And as the meta is built by various diverse decks, unlike Standard, it is very difficult to tell exactly what is really the best lineup.
However, we've been through other Eternal tournaments, and the most accepted strategy is still bringing strong lists you have mastered. So, the first and most important tip is: play with something that you know really well and with what you've trained.
Even then, we can still bring a critical analysis of what might be the best deck choices, based on your game style preferences. Let's see these lineups:
As incredible as it sounds, the most popular lineup has 2 lists that are extremely difficult to pilot, and a deck with good matchups against everything in the meta. These lists are the most played lists overall, both in tournaments, and the ranked queue, and that is why they'll probably be very present in the Runeterra Open as well.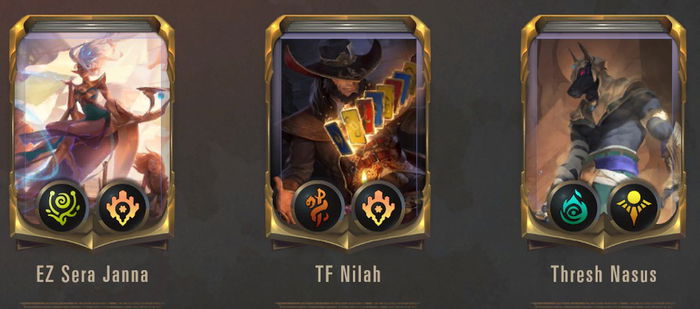 Ezreal Seraphine Janna - This deck is one of the most well-rounded competitive decks at the moment, and this list is extremely well-prepared to face any matchup. The issue is that it is very difficult to pilot, and this is evident considering its low win rate in the ranked queue. However, it is a deck that performs better in a competitive setting, as it only loses to Overwhelm archetypes. So, in tournaments, you can just ban these lists, and manipulate your win rate.
The most important factor is how adaptable this list is, due to the card creation elements in this archetype. Some randomly generated card from Seraphine or Sputtering Songspinner can completely turn the game around.
Twisted Fate Nilah - The Janna Nilah archetype was very well translated and optimized for the Eternal format, as it was expected. This list is much stronger than its Standard version, which, on its own, is already one of the strongest decks in the game. This list tiptoes on a fine line between being broken and needing more nerfs, and it only isn't nerfed because it loses to Overwhelm decks in Eternal, which will be your ban target if you want to bring this lineup.
Thresh Nasus - This archetype is, undoubtedly, the one which most "dominates" LoR matches. This means this list is so aggressive it can put on pressure constantly, forcing more aggressive decks to take on a more responsive approach. Not to mention it has one of the best finishers in the entire game: Atrocity.
The Eternal's aggressive lineups are really extremely aggressive. I chose three decks that, I believe, are the best options in general for Aggro players, and that make sense together. Ban Control lists with healing, AoE unit removal and Frostbites.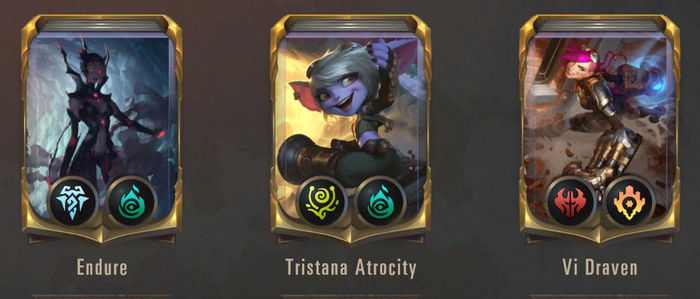 Elise They Who Endure - This archetype just got a buff, and it is a list that plays in the exact same way as Nasus decks. The only difference is that Nasus lists can bring Rite of Negation and other slower Control spells.
This means this version is faster and more lethal than the modern Nasus Thresh deck, but is less prepared to play against removals - you'll win matches faster, but will also lose faster.
Tristana Atrocity - This archetype is extremely famous in Eternal, and was in the winning lineup in the last Eternal Runeterra Open we had. Obviously, many players will want to take chances with this list this weekend, but it requires a bit more practice to play optimally, and it is an Atrocity list, which means, if you're used to Nasus or They Who Endure decks, you'll easily be able to adapt to this list.
Vi Draven - This list has a bunch of "good cards" from Noxus and Piltover & Zaun. This deck became very popular in the last few days as it is the best option for those who want to deal damage to their opponent in any way possible.
We count with win conditions with Elusive or Overwhelm units, and direct damage to the Nexus. All together in the same deck. It is extremely difficult to play against this list competitively as the decks that win against these archetypes are very specific.
Control archetypes are playable in Eternal, and cause a lot of trouble for everyone involved. These three lists are the best Control lists in the format, even though they lose a lot to Janna and Seraphine archetypes, which you should ban.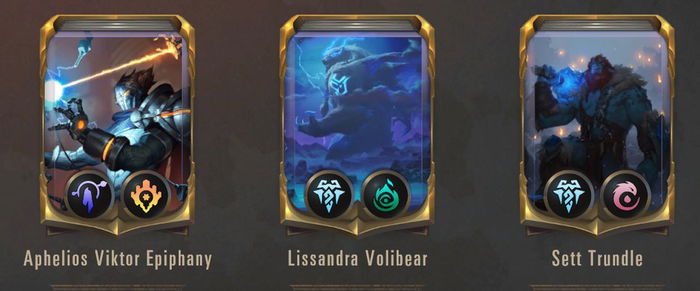 Aphelios Viktor - The "Epiphany" deck is still very competitive, and is extremely solid to play against any deck in the format. The main idea is to play Sump Monument, and, after taking a lot of damage and shuffling shrooms in your deck, Starlit Epiphany swaps your decks for copies of Behold the Infinite, obliterating all shrooms. This makes your Nexus partially immortal, until you play your Celestials and win the match.
This deck wins against almost everything and, in general, only loses to itself, besides Janna or Twisted Fate Nilah lists, due to landmark removal.
Lissandra Volibear - The greatest star in this archetype is She Who Wanders. This card destroys, or better yet, obliterates the dreams of any deck in the format. You'll almost certainly be able to obliterate not only the board, but also your opponent's entire hand when you play this card.
The rest of the deck is just units, healing and Control spells that will keep you alive until you play She Who Wanders.
Sett Trundle - This deck is also focused on the card She Who Wanders. And it works exactly as the deck above, but with different tools. Ionia is a region that doesn't destroy units, so you won't resolve the enemy units in the same way - instead, you'll Recall them to your opponent's hand, or Frostbite them with Freljord spells.
This deck is an alternative of the She Who Wanders archetype more geared towards Midrange, with other win conditions, such as Feel the Rush and the level 2 champions themselves.
These decks, together, form a lineup focused on beating the most popular lineup. Which means, these three lists have good matchups against Twisted Fate Nilah, Seraphine decks, and Nasus lists. Ban anything that isn't these decks.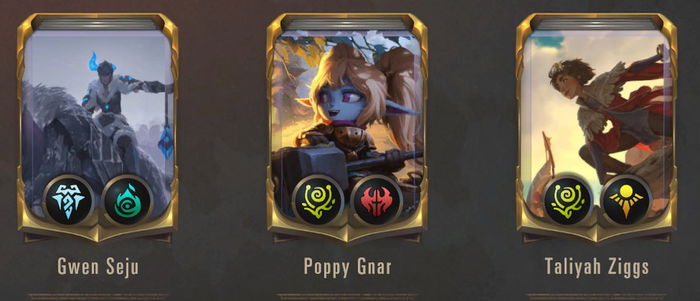 Gwen Sejuani - This is the infamous Overwhelm deck from this meta. This list is very strong against everything that is popular right now in the game, and, if you want to catch your opponents off guard, this is one of the best ways to do it.
This deck is relatively simple, but it still brings a certain level of complexity when you reach mid-game. If you dominate this game stage, you'll be ready to take this list to a competitive level. Not to mention it is the best deck to win against the strongest list in the meta: Twisted Fate Nilah.
Poppy Gnar - This deck was originally played with Ziggs, but, as we'll use this champion in our next list, we swapped him out for Gnar - which is also quite strong and matches this archetype.
Don't mix up this list with The Bandle Tree archetype, because this is the Burn deck version with these regions. This list always has the biggest win rate among all Eternal decks, and, this season, it returned to the top, as it has a great matchup against Nilah.
Not to mention only a few decks can actually stop the aggression this archetype puts on board. Another reason this list is very strong in the current meta is that it is very consistent against Atrocity archetypes.
Taliyah Ziggs - This world-champion archetype only exists in the Eternal format, and it is very strong. This build is incredibly competitive as it has a lot of card draw, several win conditions, and extremely strong Control elements. Not to mention it is one of the few decks in this meta that brings Rite of Negation.
This list has great matchups against the most popular decks, and it is a great alternative for those who want faster games. But it is a difficult deck to pilot, and requires you to have a few games with it before competing, because some decisions can be difficult, particularly when your hand isn't optimized.
This lineup is for those players who like playing in the opens, but aren't competitively ambitious, and prefer to only have fun in the tournament. After all, Legends of Runeterra is still a fun game even if you're playing the Runeterra Open.
Even though they have an extremely low win rate, Azir Irelia decks are still very popular in the ranked queue, and, as a result, many players might bring these lists to the Open. I built a lineup focused on winning against these lists, and which still has good matchups against other meta decks.
Elise Teemo Burn - This list is one of the best lists to play in the ranked queue, so why not bring it to the Open? This deck can deal more direct damage to the enemy Nexus than any other deck in the game. You can kill your opponent with just a few cards in your hand, just ignoring their board and playing your cards directly on their Nexus.
It is a deck that loses a lot to healing cards and Control lists, so keep an eye out to ban these decks.
Mono Fiora - This list is the best version of this ancient, and forgotten, Mono Fiora archetype. It was built to win against Azir Irelia, but it is also an expert at dealing with other meta decks that bring small units and don't care about interacting with your board that much, such as super aggressive They Who Endure lists and aggressive Noxus Bandlecity decks that play numerous cards on the board.
Sivir Renekton - This archetype is relatively new to the game, and it is a new version of the "good cards" Vi Draven deck, but using Shurima and Overwhelm units.
This list might be the most competitive out of all these three, and can, up to the day of the Open, be one of the best lists in the entire game. As it is still very new, it still doesn't deserve to be among the best decks, but it will surely be on everyone's competitive radar until the time the Open queue opens up.

If you read so far, now you are ready to face the Eternal Runeterra Open this weekend, November 18th.
Don't forget to share this comment on social media, and good luck. See you next time!