For those who don't know me, I've been playing Magic: The Gathering (MTG) at a competitive level for some time. In other words, I have been studying the game in detail for a long time, analyzing the metagame, following news and playing in a competitive scenario, among other initiatives.
My goal with this article is to present a MTG player's view of the new RIOT cardgame called Legends of Runeterra
. My expectation is that at the end of the article you will be able to answer the following question:
Should I give Runeterra a chance?
And for that, I start by saying that I already played some other cardgames, like Hearthstone, Pokemon, Gwent, Legends, Keyforge ... and none of these managed to hold my attention for a long time, I ended up getting bored quickly.
Runeterra apparently tries to combine strengths of different games, which could turn into a Frankenstein or masterpiece, there was no way to say before testing for a few days, understanding the metagame, watching other reviews, etc.
Among some of the things they looked for in other games, we have Hearthstone's "mana crystals", "positional combat" as in Artifact and the famous "stack" of Magic: The Gathering. YES, you read it right, they implemented the stack, having cards that are analogous to "instant", "sorcery" and even the old "interrupt". They solved the main reason why I was not attracted to other card games, the lack of interaction during the opponent's turn. I believe that this lack of interaction is what makes the other games a little monotonous, boring and less complex, requiring less of the players and, consequently, not rewarding good players in the deserved way.
I couldn't list many negative points and the game has been in its final version for a very short time (a few weeks ago it was in Open Beta), so I will list positive points, some points "to be improved" and only one negative. I don't think we have any structural problems in the game, since almost everything can be fixed with minor updates.
STRENGHTS
• I need to credit Elba, from the brazilian channel Fazendo Nerdice
, for making me realize this: I didn't complain about bad luck or things like that in any game that I lost. It seems to me that the luck factor was VERY well resolved with the use of "mana crystals" and the "reserve of crystals for spells". This second is really a innovation brought by Runeterra so that we can choose to "save mana" and cast some heavier cards a few turns earlier, giving life and balance to Control and Midrange decks.
• The look of the game is very good, the battlefield is very clean and intuitive, allows the player to understand very well what is happening. The animations are very cool and the problem that existed in the Closed Beta (where many people complained that the animations took too long during the turn) was solved. This is great, as it shows that the company is willing to solve and care about the problems pointed by players.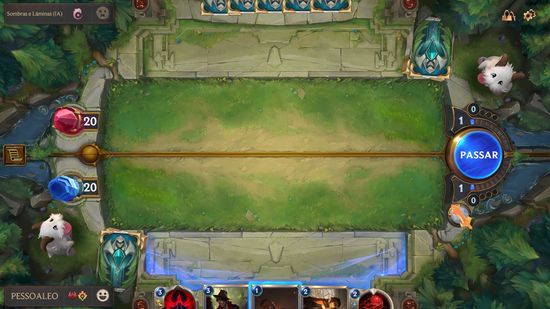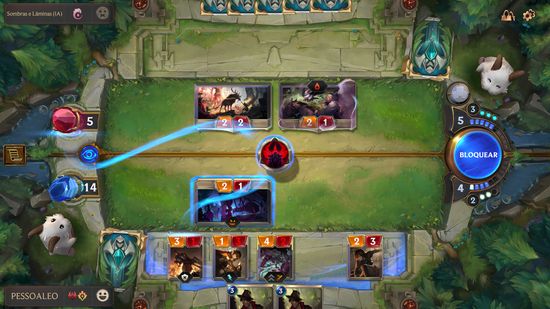 • The "stack" was implemented in a much simpler, more visual and beautiful way than Wizards managed to do on MTG Arena. This rule, which has always been a barrier to entry for new players because it is "very complicated", ended up getting more understandable and less visually polluted.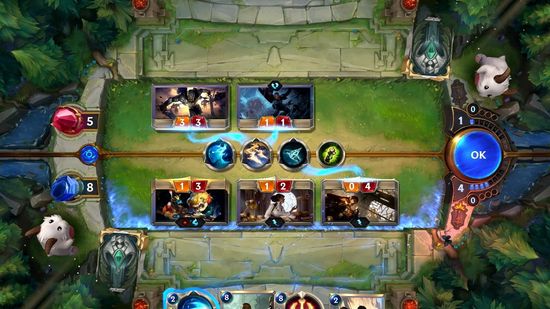 Note: the balls in the center are the spells on the stack. The stack resolves from left to right.
• There is interaction between players in all parts of the turn, both being able to answer instant cards and abilities. Although this is not new to Magic, these mechanics are very interesting and rarely found in cardgames.
• The game has a model of rewards and wildcards that is much more generous than the MTG Arena one, which rewards players who prefer to dedicate hours playing instead of spending money to grind Tier 1 decks (I finished one in 2 days, without spending any money). The game is also not expensive and you can buy wildcards, rewarding also the players who prefer to pay to finish the decks. On MTG Arena, buy wildcards directly is not a option and instead you have to keep purchasing a certain amount of boosters to craft the wildcards of different rarities.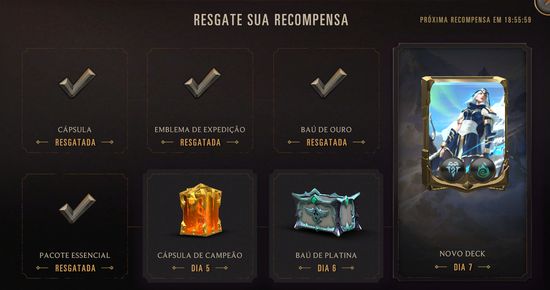 • It is not news that online cardgames can nerf cards from time to time, that is, make it a little worse so that the metagame is balanced again, but Runeterra proved to be very efficient doing not only that, but something a little less common, they also increase the power level of some cards. Cardgames in general only ignore cards that are bad, but Runeterra showed that they care when they improve underused cards, in order to keep the game balanced. These buffs and nerfs are always very well explained in official update posts.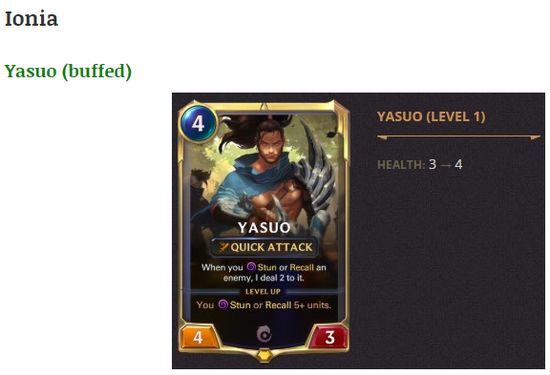 • The abilities are balanced and work well in the game, as most of them were based on Magic and Hearthstone. For example: "Overwhelm" and "Elusive" that would be the "Trample" and "Shadow" of Magic or "Barrier" that would be the "Divine Shield" of Hearthstone.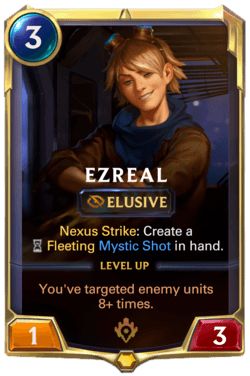 • The regions are like the colors of Magic, but there are 7 regions instead of 5 colors. Each deck can use a maximum of two regions and it is very interesting to see how mixtures of regions and champions can generate different mechanics.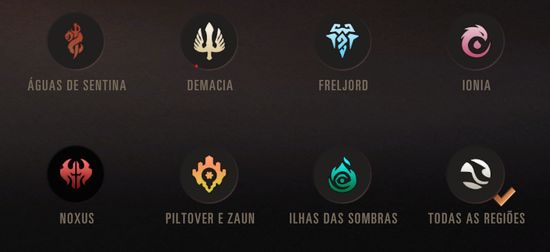 • The app is also very good and works normally, an aspect that Wizards of the Coast seems to be having trouble developing on MTG Arena.

• Riot sent products and gave several cards to content creators, encouraging the growth of the game in Brazil.
• There is a Lore behind the game. Although it is early for me to state how good it is, creating a player's identification with their cards and the game is always a great upside. Perhaps this is one of the main reasons that Pokemon remains strong in the market, even with unbalanced metagames and lack of interaction on the opponent's turn.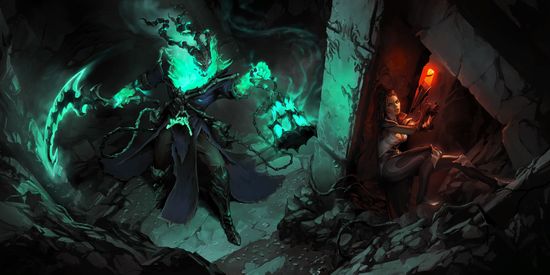 • The eye that shows the partial stack and combat results helps a lot in the calculating, saving a lot of game time.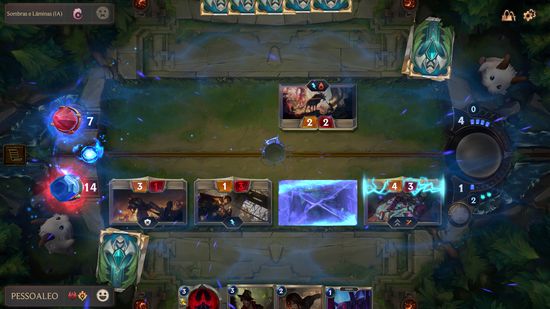 • Positional combat is something new for Magic players, although other games have already implemented it. I found it very interesting, often changing the outcome of games, with combat becoming more strategic. This mechanics means that aggro decks similar to Stompy and Burn have to make relevant positional decisions that can decide the game.
TO BE IMPROVED
• Many people say that they sometimes faced difficulties to log in because the server is crowded. In particular, I only had the problem once and when I tried again, 20 minutes later, it was already normalized. Therefore, I cannot say whether it is an exaggeration or a real problem.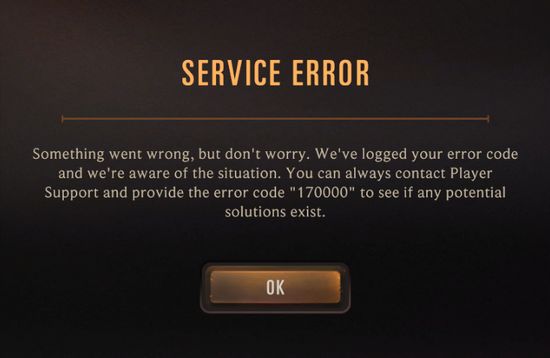 • The drafts are great, but the rewards, in my view, are a little low and could be increased, as it is a game mode that demands a lot of time from the players. They nerfed the draft, as many players complained that some rewards could only be earned on it, benefiting draft players. Listening to the players, they changed the award, placing this special item in the weekly rewards, so that everyone had access. So, in terms of the number of items that the game gives to the players it is still very good, well above the average, but the draft has become not so interesting in terms of return (except in cases where the player has many hours to play per day and reached the rewards limit in all game modes that day).
• As of the date I'm posting this article, there is still no spectator mode.
NEGATIVE POINT
• The game does not show the graveyard and there are still no mechanics that use it. Also they cherished the cleanest look. It really is not something that gets in the way, as games in general are not that long... but they should include that. The graveyard often reminds you of cards and helps with valuable calculations. It is worth mentioning that the Mobalytics
provides a program that connects with Runeterra, putting this and other information during the game, but it is so much that I found it a bit polluted and I preferred that Riot just included the graveyards in the game, the other information I don't think is necessary. A suggestion would be to base it on how Gwent or Arena do, where the graveyard is "hidden", only opening when we click on it. If there is a need not to pollute the battlefield, it could be just a button.
CONCLUSION
In general, good aspects of the game far outweigh the negative ones. It must be admitted that Legends of Runeterra is becoming a very popular cardgame and, in my opinion, it is better than most on the market. Even if you are a competitive MTG player and do not have time for other games, I recommend that you try it. Runeterra is certainly worth as an alternate to releave the stress of having a losing streak on Arena or while you're for Mol's next challenges.
I certainly haven't gone through all the nuances of the game, there are other points that can be discussed in other opportunities. I've only been playing for a week and as the days go by I will notice other details. So feel free to add something I haven't commented on.
Would you like to see more Legends of Runeterra content here on the website?
I hope the article was helpful. I remain available to answer questions in the comments.